Previously, I shared that preparing Claypot rice has been a perennial family favourite in my household and akin to urban planning. Much like selecting the right claypot, the crucial initial phases of urban planning involve establishing a clear vision and projecting the city's long-term future population. Within this claypot are its amenities, infrastructure and the people living in the city.
In urban planning, much like the meticulous selection of ingredients for a pot of claypot rice, the process doesn't end with choosing the right "pot" or having a clear vision for the city. Just as the ingredients in the claypot rice contribute to its flavour and appeal, the precise combination of land uses and functional elements within a city plays a pivotal role in defining both its character and functionality.
Separate and Distinct Courses
In a lot of cities that MORROW works with, traditional land use zoning represents a scenario where ingredients are kept separate, much like distinct courses in a western meal. While this may offer clarity and organisation, it can also lead to social segregation due to a lack of mixed-use neighbourhoods and inefficiencies such as long commutes.
Just as separate courses in a meal may not satisfy diverse culinary preferences, traditional land use zoning can result in isolated and disconnected urban areas. It hampers the flexibility to integrate diverse land uses, respond to evolving needs, and results in the segmentation of land use—akin to the monotony that arises from being confined to a single cuisine for every meal.
Crafting the Perfect Blend
A well-balanced integration of land uses within a central business district (CBD) or neighbourhood cultivates lively and interconnected urban communities and environments. Just like in Singapore, the right blend of different residential types, commercial, and public amenities within a neighbourhood contributes to improved walkability, reduced commute times, and a sense of community. Such neighbourhoods encourage people to live, work, and play within proximity, promoting a sustainable and vibrant lifestyle.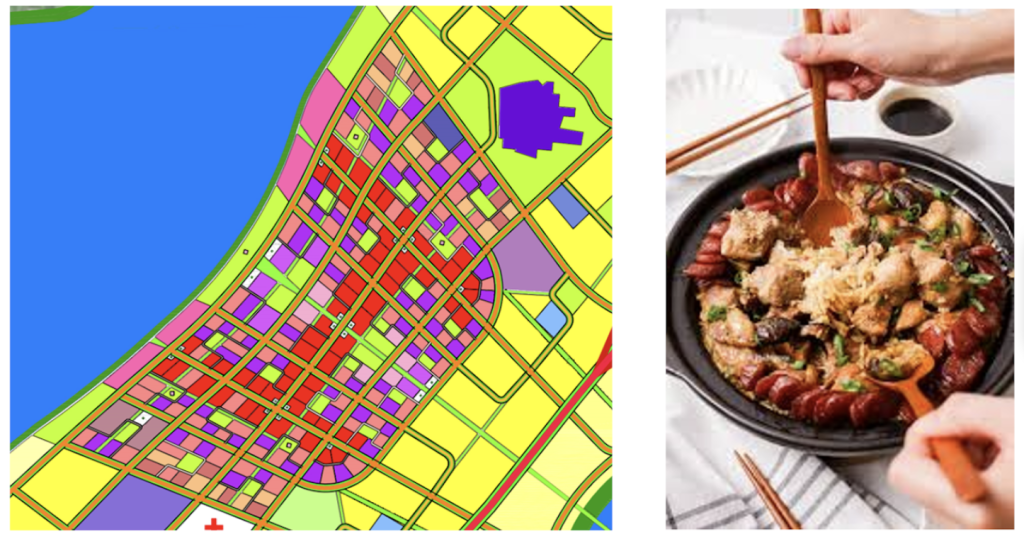 The Art of Blending Ingredients
There is significant importance in considering the various land uses and elements within urban environments. A successful city, much like a delicious claypot rice dish, requires a balanced blend of ingredients or land functions to enrich communities and elevate the quality of urban life. Planners and decision-makers must carefully select and integrate these elements to create cities that are not only functional but also vibrant and adaptable. This process also involves zoning regulations, infrastructure development, green spaces, and amenities to cater to the diverse needs and aspirations of the people.
I hope that cities can sizzle with its own individual character, flavour and adaptability, just like a perfect pot of claypot rice with its harmonious blend of ingredients.
More about the author (Tan Jian Hung) here, and our other MORROW Insights articles here.

As a Senior Associate, Jian Hung is a practicing Planner and Landscape Architect with more than 12 years of experience. Since completing his Masters of Arts in Urban Design at the National University of Singapore, Jian Hung has been involved in many urban planning projects, such as Guangzhou Knowledge City, Mandalay Amarapura CBD Master Plan in Myanmar, Concept Master Plan for Greater Suva in Nadi and Lautoka in Fiji.