"Often regarded as buildings in the city's backyard, industrial developments are more frequently lauded for their pragmatic functionality rather than aesthetical merits. Hence, industrial architecture is usually perceived as a utilitarian and plain building form, unworthy of a second glance. I hope this insight will offer a different perspective on what drives my passion for industrial architecture."
A Fortuitous Career
It has been 18 years since I joined the architectural profession and it has been an extremely rewarding and enriching journey. I have had the opportunity to work on many development types – including institution, residential, industrial, cultural, sports, dormitory, urban design, etc. But thanks to some good fortune, I was given the opportunity to design more than 20 industrial buildings of various types, including general warehouses, marine, offshore, oil & gas, manufacturing, e-commerce hubs, and a postage delivery base. Every project is unique. The invaluable exposure to different industrial sectors and clientele, through the rigorous process of understanding the different operations and processes, allows me to hone my design skills in industrial architecture through the years.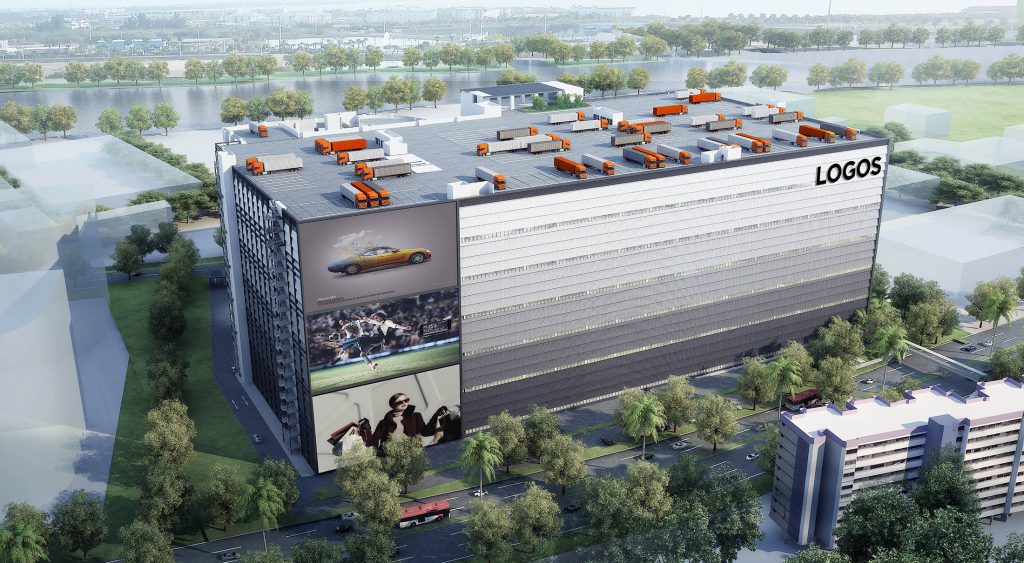 Functional For Efficiency
What keeps me intrigued by industrial architecture is its dynamic and diverse appeal. No client has the same design brief, and requirements are always changing. Operations are constantly being improvised to bring about higher efficiency and productivity – there is no one-size-fits-all solution. It has been a learning and satisfying process to engage with industrialists. I have learned to appreciate the unique way each company manages its process in all aspects – productivity, safety, security, protection of intellectual property, etc. Each step of the journey entails an in-depth understanding of the intricacies of the client's way of conducting business.
As architects of industrial buildings, we should not claim that we know it all. We should start from ground zero and dive deep into their processes intimately enough to confidently design the production and logistics workflow environment. Time is mainly spent, not just on designing spaces and façade, but also carefully managing the precision planning of equipment and services – all the way to the final hook-up for operations.
From inbound to sorting, processing, finishing, testing, packaging, and to outbound. These form just one part of the design of industrial buildings. In Singapore, to maximize land usage, an added challenge is to dissect and analyse these industrial processes in order to plan them vertically, without compromising efficiency. Hence, the emergence of ramp-up development, use of conveyors, and automation. Furthermore, given a short land lease of 30 years, the construction period for an industrial building is usually compressed. Before the pandemic, it was not uncommon to complete fast-tracked projects (say 1 million square feet of high volume 6-storey industrial space) within 18 months. To achieve this, a highly modular design is still an essential aspect that needs to be carefully considered for the success of industrial building design. For speed of construction, simple construction materials such as steel and cladding, in tandem with concrete, are often used for their robustness, durability, and ease of handling.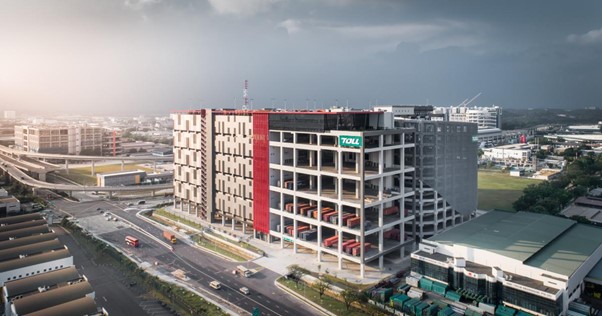 Futureproof To Stay Relevant
A client once asked me what the most important characteristic of industrial architecture is. My answer: "Futureproofing". In my opinion, the most successful design of an industrial building not only caters to the users' present needs but also takes into account the anticipated future changes. The historical development and evolution of industrial buildings can be said to have traced a similar path to that taken by industrial innovation, which is developing exponentially with new advances in manufacturing and automated storage options, increasing capacity and improving quality. From traditional racks and shelves to ASRS (Automatic Storage Retrieval System) to high-density picking modules and multi-level conveyors and robots; aided by AI, modern manufacturing and storage technologies are moving the industry towards the potential future of autonomous warehouses and factories.
Imagine the client wants to add another production line – can a warehouse be quickly converted to a production hall with a different set of spatial requirements and micro-environment with minimal disruption? If the client wants to install a vertical conveyor spiraling over 3 floors – has the floor slab of heavy loading been designed to facilitate the creation of floor openings with ease? Can compliance to the current building code and regulations be in-built to cater to this flexibility with every conversion and change? These questions do not allow us to stop designing buildings for the present; the architect must manage the design to cater to future scenarios.
Fun & Immersive
Beyond the functional box, industrial architecture must also express the company's corporate branding and culture. The architect must create a socially immersive environment to forge identity, foster dynamic interactions and promote wellbeing. It is especially valued in an industrial environment where fatigue tends to build up. Architects must also plan spaces for research and development for companies to stay competitive and scale-up; business centres to catalyse new partnerships; and integrate the visitors' experience to create a lasting impression.
Visitor engagement is no longer just confined to offices or showrooms with displays of finished products. Guests are now able to loop around manufacturing spaces and interact with engineers. Sales pitches and deals are now made in the coffee lounges and canteen where the public, executive staff, and plant workers mingle. Open green spaces for outdoor activities weaves into the public streets and blurs boundaries, departing from what used to be gated. The architectural design of industrial buildings is no longer simply about fenced-up boxes with a "front" and "back" of house. The pursuit of contemporary Industrial Architecture design has become increasingly about connectivity, immersive and expressiveness – no longer just obscure disconnected buildings in the city's backyard. Even in their simplest form, industrial developments have the potential to be designed with limitless possibilities.
About The Author
Chee Li has been driving the architecture consultancy division of MORROW since it was established. With almost two decades of experience and as an Architectural Qualified Person, she has been involved in the full life cycle of local and overseas projects, from feasibility and design to construction and completion. This also includes devising operational workflows and process planning for her clients.