An ageing population and delayed parenthood have led to the increased demographic of the "sandwich generation" — middle-aged adults who are caring for both their growing children and ageing parents at the same time. The immense pressure of balancing a career and looking after two different generations concurrently can undoubtedly impact one's mental health. There is therefore a need to re-evaluate the way we live, work and care.

Well-being, in my opinion, is attained when the needs to feel safe, healthy, comfortable are met. When there is freedom to engage in learning, playing, social activities and interactions in a safe and inclusive environment, one should experience the benefits of the good balance of mental, emotional, physical, and psychological health. The state of well-being is not only essential for the individuals of the "sandwich generation" to function well, but also important for those whom they care for to feel the same.

Multi-generation communities could be key in addressing the problems faced by the "sandwich generation" and generations under their care. These communities consist of individuals of different age groups and backgrounds, and one such example is Singapore's concept of neighbourhood centres. These centres were planned to be commercially self-sustained, while meeting the daily needs of individuals from different age groups. While working adults are away, they have a peace of mind knowing that their loved ones both young and old are in an environment designed purposefully to allow for safe and independent living, supported by the infrastructure and community.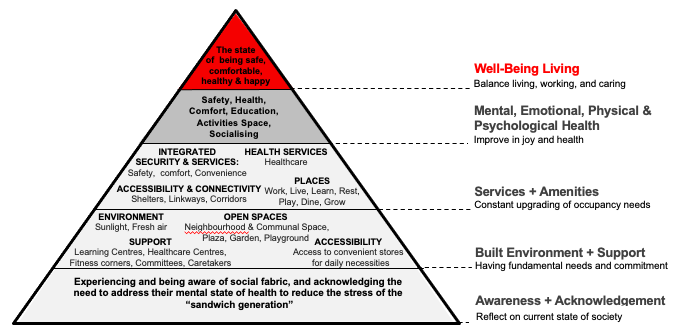 The Well-Being Concept proposed by MORROW
(Credits: Peggy Chai, of MORROW Architects and Planners)
An Environment That Promotes Well-Being
The environment we live in can often have a significant impact on our well-being. The design of buildings and environment has to integrate health and safety considerations while responding to site contexts, such as building orientation, ample natural daylight, good ventilation, incorporation of landscape and greenery, and paying attention to interior air quality and temperature. A building's performance can augment the conduciveness of the environment for well-being.
Having the right amenities in a development not only allows for the development of self-sufficiency of a community with good design, but the environment also elevates the overall experience that is safe, comfortable, and enjoyable. Suppose daily activities of working, playing, growing, eating, and learning, are made convenient through the provision of the right mix of amenities. In that case, the sandwich generation can be reassured of the safety of their children and elderly parents in their immediate surroundings while they are at work on weekdays. During the weekends, leisure activities can take place and bring the family closer together, inevitably providing an opportunity to balance between happy living and a conducive work setting for residents and tenants.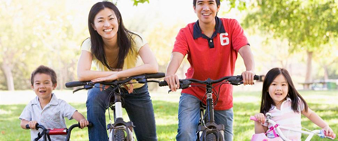 Both adults and children are able to bond together through leisure activities
(Source: Healthhub)
An Environment That Supports
Within a development, amenities must be strategically planned within convenient walking distance, in order to reduce time for commuting over long distances. Amenities shall be designed to allow chance meetings and interactions between the residents, while they go about their daily routine such as grocery shopping, going to a clinic, walking to school etc. Childcare and senior care facilities can be co-located in proximity to each other, to encourage intergenerational bonding.
To further augment the health of the elderly residents in the development, general healthcare facilities should also be integrated providing them assurance while encouraging them to lead independent and healthy lifestyles supported by the developments' amenities.
Parks focusing on active seniors can help support a healthier lifestyle
(Source: Calvary Community Care)
Revitalisation of Environment through 3 aspects: Design, Programmes and Maintenance
Universal Design
Infrastructure and orientation around the development should offer clarity, and be functional and logical with a universal design implemented allowing residents to navigate safely within the neighbourhood at all times. This creates safe and user-friendly spaces for residents both young and old, and helps engage other residents in the vicinity. Therfore, it will also improve the infrastructure design of surrounding areas.
Activity Magnet
Social Cohesiveness is an important aspect of well-being that can be cultivated by injecting communal spaces — such as community parks, playgrounds, or even fitness corners — should be incorporated into the development to encourage interactions between residents, be it within the development or in the vicinity. Events can also be hosted in common public spaces.
Residents from adjacent neighbourhoods bonding through caring for the plants in a community garden together, sharing tips with each other at sporting facilities or health clubs, and intergenerational bonding could all become common sights.
Maintenance
The environment and its amenities are fundamentals in enabling multi-generational living and it is henceforth important that both are well maintained. This maintenance can be carried out by the residents to help cultivate a sense of ownership of the environment they are in. This way, such environments can become more self-sufficient and while continuing to benefit the well-being of their residents.