Singapore – a tiny nation on the world map – has emerged as one of the role models in the development of liveable cities, achieved through decades of planning and construction. Despite facing the challenge of having a dense population, Singapore is still able to flourish without sacrificing its environment, or getting embroiled in issues that many cities grapple with due to rapid growth.
Can some of the unconventional urban planning practices that Singapore adopts be of inspiration to other cities?
Low Population Density & High Liveability vs. High Population Density & Low Liveability
Areas with low population densities are usually perceived to possess the ability to better manage issues confronting cities; high population density is a factor that further complicates the matter and is capable of generating more problems for the city. Singapore, alongside a majority of other Asian countries, have to tackle the issue of high population density. It is impossible for them to follow the development tracks designed for sparsely populated areas, such as the European and American nations, who own large plots of land with few people residing. Since this approach is out of the question, densely-populated cities ought to seek other ways to improve on their liveability.
At present, Singapore is one of the few countries that have achieved high liveability in a densely populated environment. Even with a high population density, the city does not come off as suffocating and messy, nor does its traffic get congested easily. Greenery is also not an uncommon sight, making Singapore a widely recognised Garden City. At the same time, apartments in Singapore are not tiny and crammed, nor are they overpriced, making its public housing policy – the Home Ownership of the People Scheme – a model example for other nations' reference. That said, if urban planning is done well, where different functions are appropriately managed and structures are properly laid out, building a "garden city" in a densely populated area will not be a pipe dream.
On the flip side, some European and American cities are starting to relook at their urban development. This is because urban development for sparsely populated areas will induce higher energy consumption; contrary to popular belief, having a certain level of density can actually reduce energy usage due to better efficiency.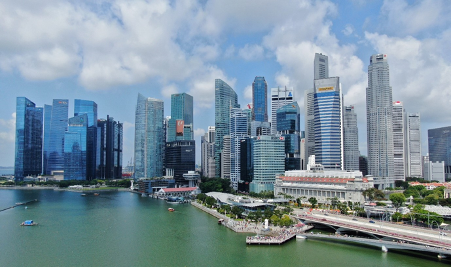 View of Singapore's Central Business District
Source: MORROW Architects & Planners Pte Ltd
Visible Outer Beauty vs. Unnoticeable Inner Beauty
For many cities, urban planning is largely focused on components that are visible – in other words, the outer beauty aspect – such as the architectural buildings, squares and malls, as well as the appearances of streets. These cities paid little attention to the invisible aspects, such as urban policy research, land utilisation, road networks, and urban density. However, it is precisely these unnoticeable planning and rules that make up the fundamentals a city needs in order to operate in a healthy and orderly manner, and truly shape the inner beauty of a city.
Singapore devotes a great amount of effort into exploring and developing its urban planning on a macro level and avoids committing excessive attention on the urban design of a particular region or a specific architecture. Regardless of how pleasant-looking an architecture is, if it is positioned at an unsuitable location or if it is prescribed with an incompatible function, it will bring about a series of problems for the city, such as traffic congestion and misusing of resources.
Thus, planners must refrain from putting the cart before the horse; in other words, the core issues should be attended to first, before handling the more trivial or less essential components. Urban planning should start from designing a systematic and scientific city layout at the macro-level; this shall provide for the inner beauty a city needs for efficient operations. The next step will then be to uncover ways to shape the outer beauty of a city, which is its image.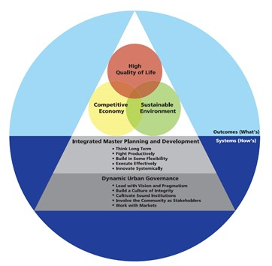 The Singapore Liveability Framework Source: Centre for Liveable Cities
Standalone Trait vs. Harmonised Traits
Many tend to wrongly associate the features of an iconic architecture, a small region, or a particular road with the characteristics of the city at a macro-level; thus, they form the impression that those micro-level traits represent the specialties of the city. Landmarks are rarely featured in Singapore's urban plans; rather, the plans typically address city-level objectives, such as achieving an ideal urban density, accurate near-line rates, neat street interfaces, and organised controls over building heights — these shape the overall distinctiveness of the city. Though the resulting architecture may lack diversity, the tidiness of the city will present a sense of cohesive orderliness, which is missing in many modern cities.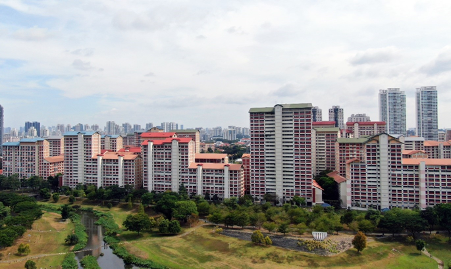 View of the Bishan New Town in Singapore
Source: MORROW Architects & Planners Pte Ltd
Stickler of Standards vs. Exploration of Principles
Currently, many urban plans treat standards and specifications as the imperative benchmark — should a plan have met a certain set of requirements, it shall be deemed as a good plan. In contrast, Singapore's planning has less specified standards to adhere to; instead, the plans place significant emphasis on the exploration of principles and customised practicality. For example, Singapore's green spaces as a percentage of its total land area is less than 10% — this proportion is considered "not up to standard" in the specification requirements held by many cities.
Despite this, Singapore has managed to obtain remarkable performance as evident from its garden city feat, ecological environment, and biodiversity. On the other hand, many cities possess much larger green spaces than Singapore, yet they perform undesirably. Another example, many Chinese cities stress the importance of road network density in their planning guidelines, but Singapore does not. While Singapore's road network density and road areas are not comparable to that of many Chinese cities, its transportation experience is actually smoother.
Therefore, the act of blindly pursuing after standards and specifications is uncalled for; rather, the principles solidified and insights gained through planning are the solutions to urban needs. This article shall not delve deeper into the specifics of principles and approaches involved in urban planning.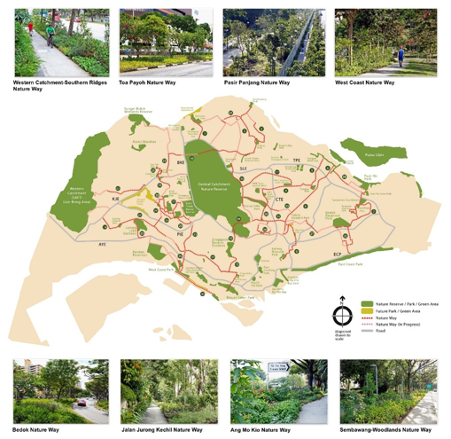 Singapore's Park Connector Network (PCN) Source: National Parks Board
The aforementioned reverse engineering strategies incorporated in Singapore's planning are meant to provide points of reference for other cities and spark their thinking in this domain. Cities will only flourish if planners examine the needs of the city and the people in the quest of truth and locally-adapted solutions. In certain circumstances, it is not necessary to hop onto the bandwagon and parrot the actions taken by others. Have faith in the truth and go against the tide — a solution closer to the crux of the issue might be awaiting.