What impacts do the recent global disasters have on the building and construction sector, especially in the development of housing to address basic needs of communities? With global supply chains disrupted by the Ukraine war, workforce shortages caused by the pandemic, and disasters induced by climate change, stakeholders in housing development have been pressed to address environmental sustainability issues and concerns urgently. Productivities in not only design and construction, but also those facilitating seamless transition to facility management of buildings require looking into.
In this aspect, housing design for modular and prefabricated construction – also known as Design for Manufacturing and Assembly (DfMA) and Prefabricated Prefinished Volumetric Construction (PPVC) by Singapore's Building and Construction Authority – has much to offer. However, DfMA and PPVC have been met with some resistance from the architectural design professionals due to concerns about the innate limitations of modular sizes, and stifled design creativity due to repetitiveness that ultimately lead to unattractive architectural designs.
Introducing DfMA and PPVC to East Africa
MORROW's Director Dr Wynn Cam recently designed a high-rise housing prototype for a leading Real Estate Developer in East Africa with the support of Singapore-based organisations Tiong Seng Contractors and Robin Village Development that championed modular and prefabricated construction. The resulting outcome proved that designs for PPVC and DfMA need not be boring architecture that is overwhelmed by repetitiveness due to the similarity of the modules. Instead, the resulting housing designs are not only functional, but also facilitate productivity, encourage clean construction onsite, while being both environmentally friendly and aesthetically pleasing at the same time.
Design for Functionality
The typical high-rise residential building typology for urbanised East Africa comprises 20 storeys and Ground Level Retail for the convenience of residents to access to daily basis supplies and services without travelling needs. The design brief calls for the design to be at a high-level of standardisation for speedy construction and mass roll out. Design for PPVC and DfMA are clearly a suitable approach.
Design for Manufacturing and Assembly requires each PPVC unit to be free-standing volumetric modules and completed with internal finishes, fixtures and fittings. In our design, typical 3-bedroom apartments comprise four to five PPVC modules. Each module shall be structurally independent from each other for transportation and assembly. However, when being put together, the modules strengthen the overall integrity of the building structure without posing constraints of spatial connectivity within each apartment. Furthermore, each apartment should be perceived by the future occupants as one unit, rather than as a loose combination of fragmented components.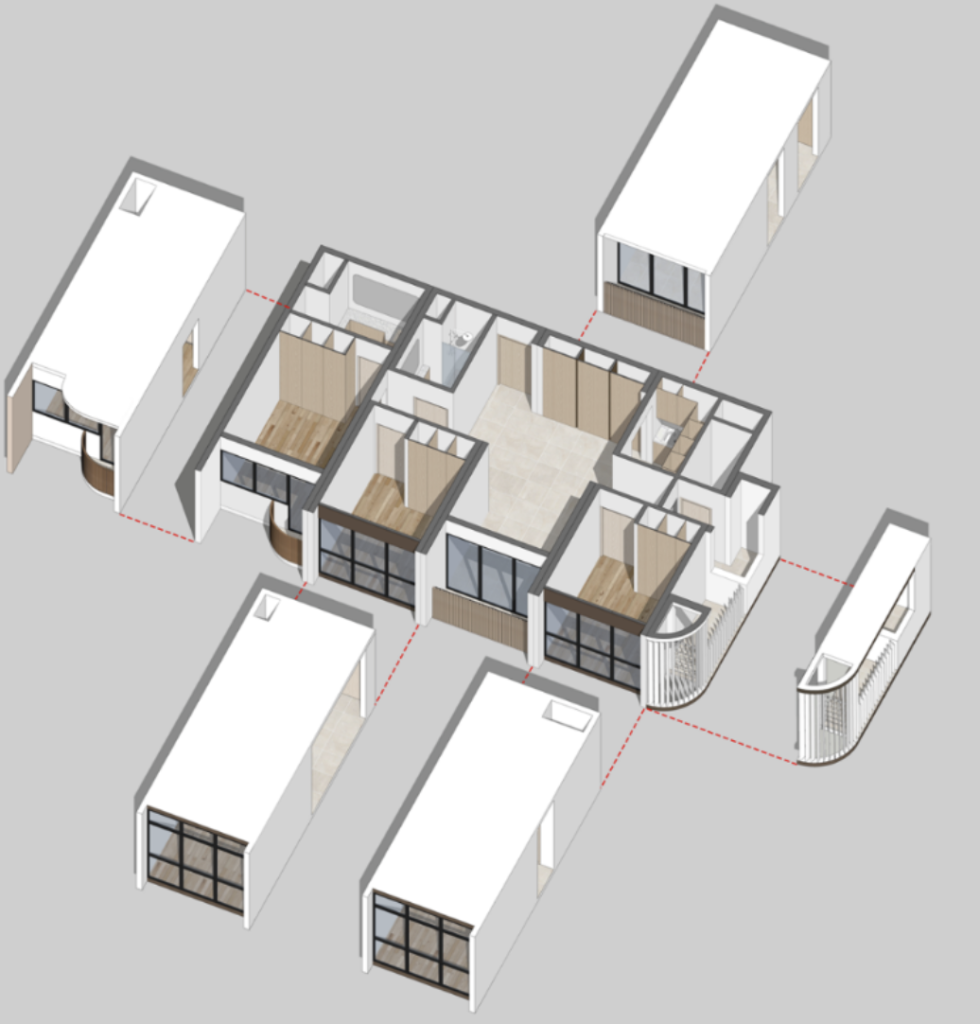 Modules as Carbon Capture and Utilisation
In order to reduce the embodied carbon for the development, timber products and mass engineering timbers flooring for the following are incorporated into PPVC modules – partitions, doors, handrail, carpentries, etc.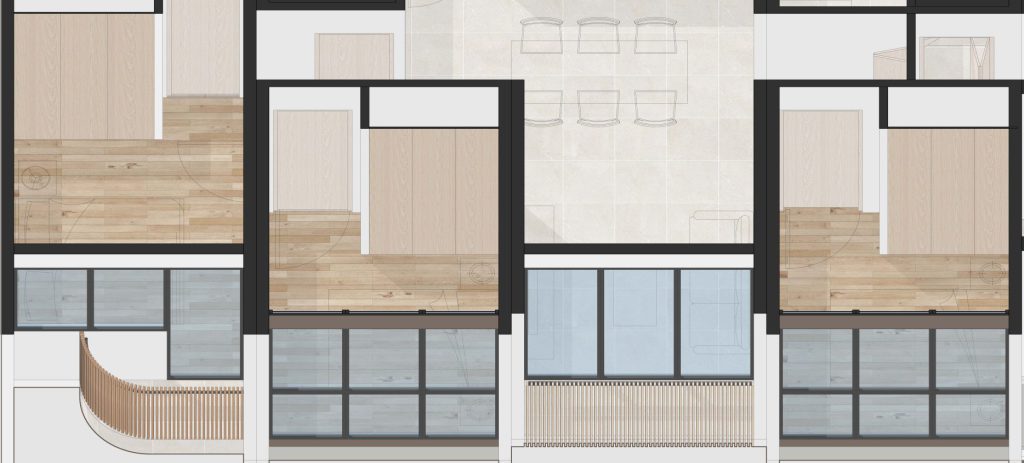 Design for Natural Ventilation
A typical residential floor layout comprises eight units of 3-bedroom apartments surrounding a central corridor. The floor layout is carefully designed to meet the minimum floor space efficiency requirement of 85%, yet allows for openings at strategic positions. Coupled with curvature architectural expression to capture prevailing winds, natural cross-ventilation is enhanced.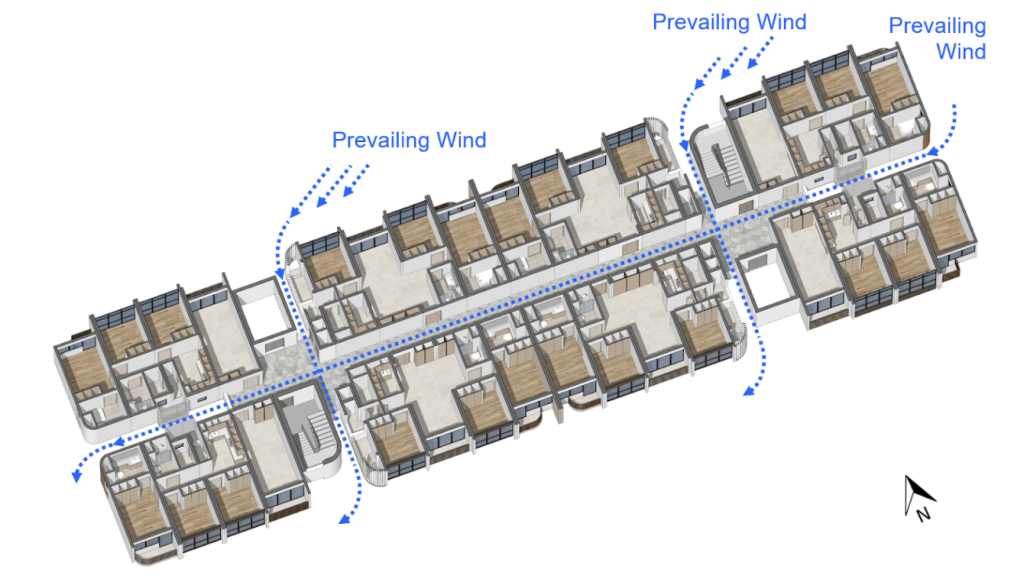 Minimising Material Waste
One of the advantages of modular construction is that the modules are constructed in a controlled environment in the prefabricated yard, which leads to the reduction of material wastage. This is thanks to more precise cutting and fitting of materials, reducing the amount of waste generated during the construction process. Additionally, modular construction processes typically generate less construction waste overall, as excess materials are often reused in subsequent modules, projects, or if not recycled.
Design for Manufacturing, Transportability and Assembly
The modules are manufactured in factories off-site, before being transported to the construction site for installation in a Lego-like manner. All PPVC modules are sensitively sized to cater for the ease of road transportation to construction sites.
With the design for assembly approach, onsite construction will potentially be reduced to a minimum while the process is less labour intensive and also sees quicker completions. These then lead to reduced potential safety breaches and accidents onsite.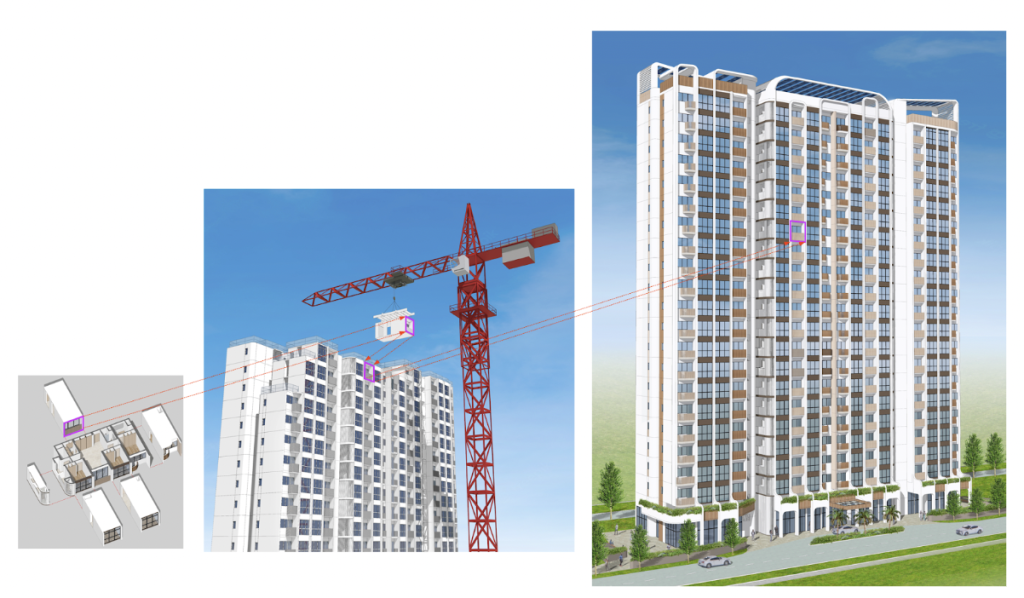 Design with Repetition
Projects with modular construction tend to fall victim to being overly repeated, resulting in them being dull and unattractive. As a result, many are then wrongly perceived as low-cost and low-quality housing products. Instead of treating repetition as detrimental to creativity, we can consider repetition as an advantageous design strategy and apply the following design techniques to enhance the overall building appearance:
Treat repetition as a design opportunity by carefully designing each module's façade as a piece of architecture by itself.
Accept repetitions of modules for the majority of the building as a body, and attempt to create a pattern language from a series of adjacent modules.
Use the ground floor and elements on the rooftop to break the repetitiveness and celebrate how the building meets the ground and the sky.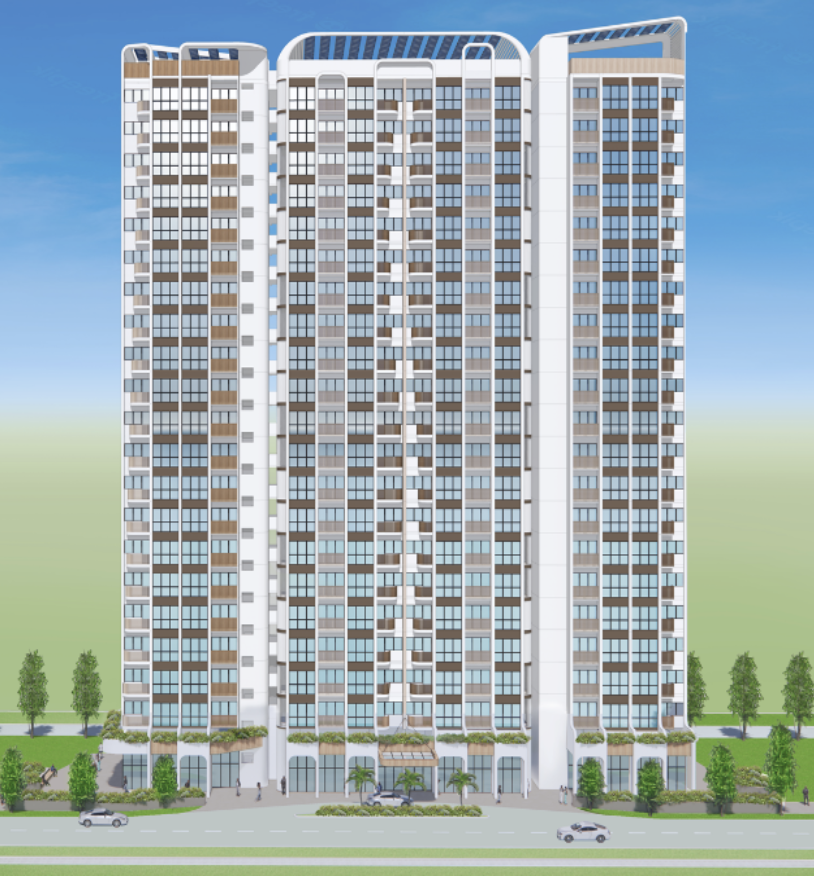 Conclusion
The outcome from the design exercise proves that design for PPVC and DfMA does not have to be a piece of boring architecture overwhelmed by repetitiveness due to modular similarity. The resulting housing designs are not only functional, facilitating productivity, clean construction onsite, but also environmentally friendly at the same time.
In terms of application, DfMA and PPVC can address home shortages often found in places with rapid urbanisation. Furthermore, they can also practically meet the need for urgent reconstruction of places damaged by wars, such as the reconstruction of Ukraine in the future, or urban areas damaged by natural disasters, such as the quake-hit Türkiye and Serbia.
The evolution and improvement of DfMA and PPVC will take on a major role in the development of future housing, hotels and to some extent, other building typologies that can be constructed with volumetric modulars such as hospitals, elderly cares, and so on. As forward-looking professionals, architects should master the design techniques for prefabricated, pre-finished volumetric construction and design for manufacturing and assembly.
Acknowledgment
The Author wishes to thank MORROW's client – a leading real estate developer in East Africa – for the opportunity to design the high-rise housing prototype; Enterprise Singapore, especially Anne Nyambura KIBEBE, Habib RAHEMAN, and Grace Teo for the relentless supports; and Dr John Keung of Tiong Seng Contractors (Pte) Ltd, and Mr Darius Lim, Managing Director of Robin Village Development for constructive feedbacks and supports.
More about the author (Dr Wynn Cam) here, and our other MORROW Insights articles here.