AIF returned as a hybrid virtual and physical event at Sands Expo and Convention Centre this year, where speakers included Ms Indranee Rajah, Minister in the Prime Minister's Office and Second Minister for Finance, and Second Minister for National Development, and government officers and experts from many Asian countries and beyond.
Looking back, MORROW's director Dr Wynn Cam shares his reflections on his attendance at AIF 2022.
---
The month of August this year has been a busy one with Singapore's National Day celebrations and the return of the mega-events for stakeholders from urban and infrastructure development. The World Cities Summit (WCS) was filled with more than 2,500 delegates, while the Asia Infrastructure Forum (AIF) saw close to 1,000 delegates from 29 countries.
It is highly commendable that the organisers – Centre for Liveable Cities, Urban Redevelopment Authority, Infrastructure Asia, Ministry of Finance, Enterprise Singapore, and Monetary Authority of Singapore – have put in tremendous efforts to arrange, coordinate and manage the smooth-running and fruitful hybrid physical and virtual events. The programmes, agenda and topics were well curated with renowned and highly experienced experts and speakers contributing to meaningful presentations and lively discussions. The participants were actively engaged in interacting, networking, and exchanging knowledge and ideas with each other.
While MORROW's Chairman Dr Liu Thai Ker attended WCS, I was invited to attend AIF and engage with other industry professionals and learn more about their insights and experience in city and infrastructure developments.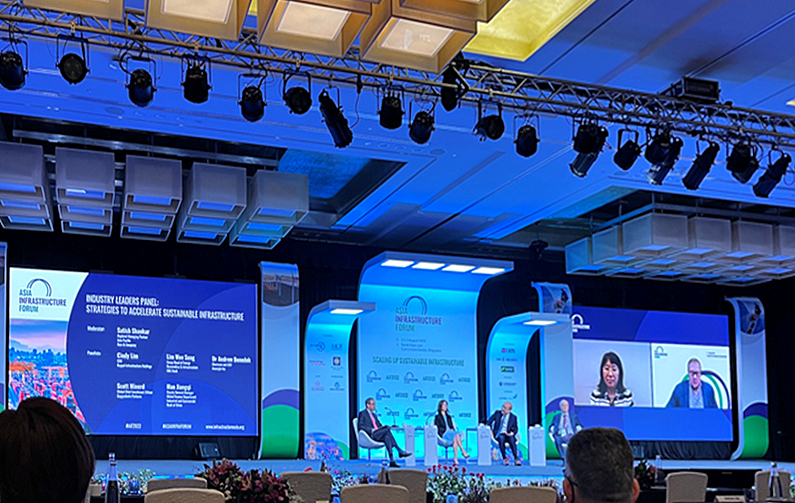 The Five Main Topics that Emerged
Through the many rounds of discussions we had, the five main topics that emerged (as also highlighted in this Straits Times article dated 8 August 2022) were:
1. Role of cities in the post-pandemic world — decentralising workplaces and bringing amenities closer to where people live
2. Community partnership — involving local communities in shaping the cities they envision, and the development of new policies and public programmes
3. Inequality — having cities look into addressing the inequalities of underprivileged groups and also better support them
4. Reducing carbon emissions — drawing up concrete plans to reduce carbon emissions and address climate change
5. Financing green projects — leveraging on emerging means of financial support beyond the conventional reliance on central government budgets
Government Support in Singapore
Senior Minister Mr Teo Chee Hean also highlighted that the rate of population growth and urbanisation will continue to increase globally over the next three decades, and key stakeholders and planners need to reassess their approach, especially when the majority of this growth will be experienced in Asia and Africa.
I am heartened that the Singapore government's commitment to building a resilient and sustainable Singapore is a strong one, with Minister of National Development Mr Desmond Lee announcing that $66 million will be set aside for the "Cities of Tomorrow (CoT) R&D Programme" over the next five years. This programme has been well-received by architects, urban planners, researchers and professionals, many of who will leverage such strong government support to work on projects to better improve urban environments for liveability, and sustainable development.
AIF 2022
While AIF 2022 was just for two days, shorter than WCS where the forum was co-located, there was quite a bit of buzz too. One of the more exciting announcements was the launch of the "Infrastructure Asia Project Portal". The common alignment among speakers is that embarking on new infrastructure projects that counter climate change presents win-win opportunities. These projects are much needed to boost post-pandemic economic development, address climate change issues, and create business and job opportunities.

It was also eye-opening to enjoy numerous in-depth discussions on sustainable financing, technological innovations, and the future state of infrastructure.
Approaching Infrastructure Planning
When reflecting on the topics discussed, what I felt was important to avoid infrastructure projects becoming obsolete or urbanisation outgrowing them, is to avoid planning and implementing them in a silo. Otherwise, problems such as cities having an airport located in the middle of an urbanised area, or the common urban issue of traffic congestion could arise. Traffic congestion is a persistent issue for many cities despite road widening works, as new or elevated roads that are being added end up disrupting the existing urban fabric.
How can we approach the planning of infrastructure projects then? By treating infrastructure projects as an integral part of the long-term urban ecosystem via comprehensive land-use planning. While there may be an urgency in many cases to roll out infrastructure developments quickly to address shorter-term problems, I believe it is also important that government leaders not lose sight of the long-term urban planning objectives. In the case of Singapore for example, this logical development of infrastructure projects has allowed us to enjoy a liveable city while we continue development into the future.
Overcoming Budget Constraints
One challenge is also how to attract funding for large-scale infrastructure projects that take a long time to recoup capital investments. The investment risk due to long time horizons, and the tight government budgets exacerbated the ongoing battle against the COVID-19 pandemic. The financing experts shed light on how cities can try to leverage emerging means of finance such as green bonds, sustainability-linked loans, and public-private partnerships to have large-scale infrastructure projects successfully implemented.
Conclusion
Overall, it was encouraging to learn more about the magnitude of infrastructure projects happening in Asia, which range from transport and logistics network development to energy and environment in countries such as Cambodia, Indonesia, Malaysia, Vietnam, and so on. As more project financing options emerge beyond the traditional central government support, it will be interesting to see where these can take us.