"On a global scale, we see an increase in demand for sustainability in the real estate sector. What is important is the attitudes of everyone in contributing to sustainable development, as sustainability brings real value to people and the environment through a concerted effort."
In his discussion with other panel members on "Technology for Design and Sustainability for Real Estate" at a Singapore Week of Innovation and Technology (SWITCH) event on 14 October, MORROW's director Dr Wynn Cam shared his thoughts on the observed increase in demand for sustainability in the real estate industry, both locally and globally.
As the spotlight continues to shine on sustainability, more companies are considering how they can play a part in this collective. Dr Wynn believes that this key consideration explains the push and pull factors observed in the recent global trend.
The severe impacts caused by recent extreme weather events have pushed governments around the world to implement policies such as carbon taxes in order to decarbonise their economy and mitigate the effects of climate change. On the other hand, eco-investments from the finance sector aided in roping in more real estate companies to put in place sustainable building projects, while allowing them beneficial returns. Hence, continual upskilling of all architectural and real estate firms will be crucial to thriving in this new normal as sustainability becomes mainstream.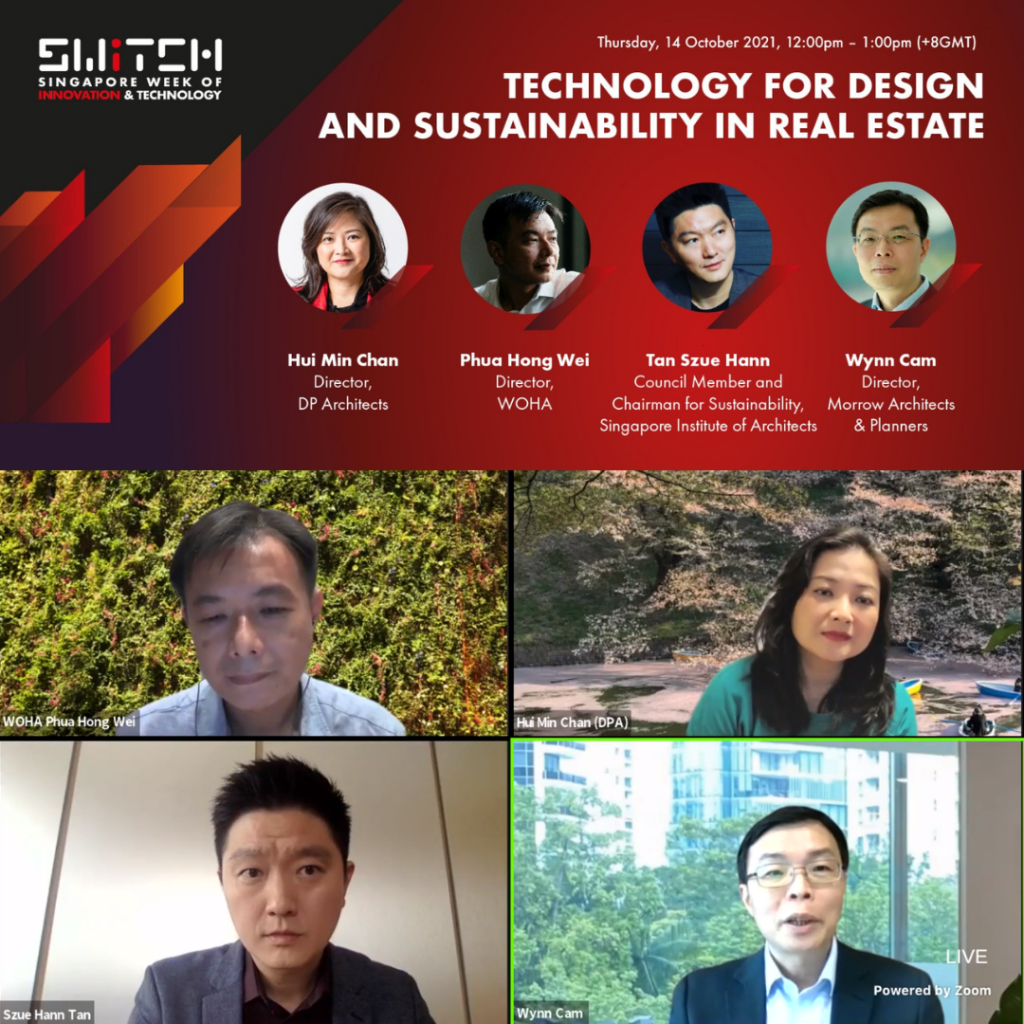 "Bringing work and amenities together is something that Singapore has been developing well, but technology still needs to be tapped on to accomplish this while keeping sustainability a key objective."
Elaborating on how MORROW supports sustainable design, Dr Wynn explained that urban planners and architects need to take a step back and look at integrating technology with urban solutions. At the same time, the principles of environment, social, and governance (ESG) factors should continue to be implemented when designing master plans.
At MORROW, ESG factors have culminated in a "Design-First Smart City Technology Framework" approach to urban planning and design. Cities are planned based on Maslow's hierarchy of needs, from physiological through to self-actualisation, with the foundations for optimal use of smart technology to support sustainability. Even as cities continue to be the major contributors of global warming, emitting 70 percent of greenhouse gases, addressing this environmental problem at a city-level presents a huge potential for a myriad of solutions.
Sustainability would bring real value to both people and the environment, Dr Wynn said, but it is the attitudes and combined efforts of everyone that would be a key contributor to sustainable development.
About Dr Wynn Cam
Dr Wynn Cam, director at MORROW, has more than 16 years of experience in both Singapore and Australia, with projects spanning three continents. He is passionate about the interactions between nature and technology and enjoys contributing to sustainability in urban planning.

About SWITCH
SWITCH, in its sixth edition, is organised by Enterprise Singapore (ESG) and supported by National Research Foundation (NRF). It aims to provide a platform for collaboration and exchange of ideas between global participants, including industry leaders. As part of SWITCH, this webinar is one of the many monthly webinars leading up to SWITCH 2021's main event in November 2021.