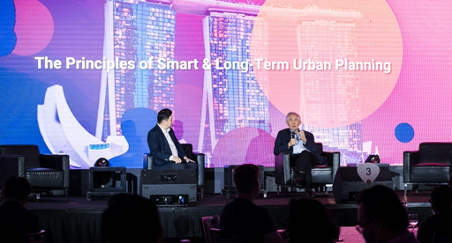 On 2 March 2022, MORROW's founding chairman Dr Liu Thai Ker took part in the Cities of the Future 2022 dialogue, sharing his insights and perspectives on the future of smart cities and technologies, as well as the significance of intelligent long-term planning. The dialogue kickstarted with an introduction to Dr Liu's background in city planning, and his thoughts towards smart technologies.
"A planner must know the long-term unchangeable basic human needs."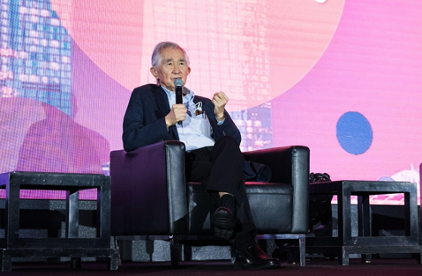 As an experienced city planner, many of whom dubbed the "Father of Urban Planning of Singapore ", Dr Liu has been a supporter of smart technologies but has always focused on the importance of smart and sustainable planning first and foremost. To him, smart cities are cities that invest in long-term planning for the needs of their people and land.
During his 20-year stint with Singapore's Housing and Development Board (HDB), Dr Liu managed to pinpoint what needed reworking in his planning and designs during the development of public housing – through public feedback that was submitted during their planning stages. To sieve out the relevant feedback that they could act on, teams were formed to streamline the process. This helped shape Dr Liu's mindset towards urban planning and lay the foundation of what ultimately became his belief that the key considerations of urban planning should focus on the people and land.
Long-term fundamental needs over iconic architecture
Dr Liu also spoke about how modern cities and their urban planning are inclined towards creative and iconic architecture, but this will not make a city smart, or liveable. Instead, to plan a city well, he emphasised the importance of planners focusing on the long-term, unchangeable fundamental human needs. These needs include having a place to live and work, with leisure opportunities, and have not changed over the past decades.
Another crucial point highlighted was that as planners, one should always think of the long-term implications of one's designs and decisions. Dr Liu made it a goal to ensure whatever he planned would last indefinitely, which is something he felt was not always thought of in urban planning.
In Singapore's context, the government has always supported environmental sustainability and the idea of a 'garden city', as this has contributed to making the city not just liveable, but convenient. Foreigners flock to Singapore precisely because of this reason — everything, from traffic infrastructure and safety, to electricity and cleanliness, works harmoniously. Dr Liu recalled that Singapore's first-generation political leaders had always upheld the belief that once you take care of the needs of people and land, an iconic city would be created. The integration of smart technology then makes the city a world-class one.
"Smart technologies are like vitamins to a healthy body (the city)."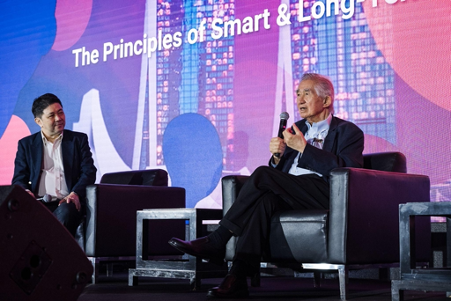 But, how do we incorporate smart components into urban planning? With a myriad of experiences planning for over 60 cities all across the globe, Dr Liu addressed a few key points. Firstly, there is a need to allocate land for smart technology at the city planning level. If not, most of it can be done within existing infrastructure, such as incorporating technologies in offices. Secondly, smart technologies should go hand-in-hand with long-term goals such as sustainability, and we should use them to our advantage. With the foresight of our founding Prime Minister Lee Kuan Yew, we now have the Green Plan, which makes use of cutting-edge technology to sustain and reinvent current sustainable practices.
Cities of the Future 2022
First started in 2018 and into its fifth year running, Cities of the Future 2022 was held in conjunction with the HSBC Women's World Championship this year. Held on 2 March 2022, at the Hilton Orchard Hotel, the fifth edition of this event was organised by Unbound, sponsored by IMG, and hosted and moderated by Kok-Chin Tay, founding chairman of Smart Cities Network.
Watch the full recording of Dr Liu's dialogue at Cities of the Future 2022: