COVID-19 has taught Singapore valuable lessons on the importance of fortifying our national food security regime. Over the past two years, we have seen how the perceived severity of the pandemic has triggered fear within the population, with long queues and empty shelves a common sight at supermarkets after announcements of the tightening of COVID-19 measures were made. This is not just common in Singapore also in other cities around the world.
Minimising Disruptions to National Food Security
Despite adequate stocks and supermarkets being increasingly prepared to deal with more crowds and bigger purchases, there is a need to address the longer-term effect of the pandemic: as Singapore is heavily reliant on food trade with other countries, any disruption to imports and exports can see a multitude of detrimental effects to the nation's food security. To tackle this issue, the Singapore Food Agency (SFA) currently looks into pursuing three main strategies termed the '3 Food Baskets':
Diversify import sources to reduce risk of reliance on any single food supply source
Grow local to provide buffer supply in event of overseas supply disruptions
Grow overseas to help local companies expand abroad and export food back
While SFA's '3 Food Baskets' approach can protect Singapore against acute supply disruptions, the hard truth is that land-scarce Singapore cannot solely rely on traditional farming techniques to meet our 30 by 30 Goal, which is the Singapore Food Agency's (SFA) aim to produce 30% of Singapore's nutritional needs locally and sustainably by 2030. Moreover, other pressing global issues such as climate change have severely affected food security, thus increasing the need to turn to high-tech and urban agriculture.
Urban agriculture has been considered aneffective strategy in mitigating climate change, as it can reduce greenhouse gas emissions by shortening the food supply chain and by avoiding the food quantity and quality losses that come with long-distance transportation. This starts to be a world-wide trend.
MORROW's Agri-Town Planning Model
MORROW has looked into sustainable agri-food practices in addition to addressing long-term food security issues and has developed an Agri-Town planning model to ensure Singapore remains economically and environmentally sustainable, which could be applicable to other cities worldwide.
First, it is important to forecast the food consumption needs. Together with agricultural experts, the land-use requirements on various agricultural types and methods can be estimated. For example. to support the Singapore's 30 by 30 goal, we estimated Singapore's egg, fish protein and vegetable consumption for 2030, and applied the land requirements to future Agri-Towns.
Figure 1, Estimated food consumption in Singapore by 2030
Ideally, Agri-Towns should consist of several Agri-Clusters and a residential neighbourhood. Within the Agri-Town, the site should be anchored with an Agri-Biz Centre (ABC) that provides self-contained supporting services and amenities to workers, businesses and residents. The residential neighbourhood can provide housing for the Agri-Workforce or even to those who are on a short-term stay and desire to live away from the highly urbanised centres.
Food producers in each cluster can also share common infrastructures such as waste and water management. Such an arrangement would reduce individual producers' burden when planning for their own infrastructure needs, making the economic prospect of Agri-Towns more attractive. It can also reduce overall consumption as excess water or electricity generated at one plot can be shared within the cluster. Each Agri-Cluster is also planned with a "cluster centre" providing common-shared facilities such as treatment centres, amenities, security and restaurants.
Our Approach to the Planning
As articulated by Dr Liu, MORROW's founding chairman and Singapore's former chief planner, cites should treated like a family rather than a single person, independent from each other and yet related, with facilities distributed to each of them. Similarly, the Agri-Town planning model, inspired by Singapore's New Towns, can have its own town centre with shopping malls, offices and public transport lines to support residents, which allows for resources to be pooled more efficiently.
Based on MORROW's planning approach, the master plan should be a long-term vision that goes beyond 2030. In order to ensure the resilience of our Agri-Town model, Agri-Towns can be sub-divided into smaller self-contained and self-sufficient Agri-Clusters with their farmland that would be able to better fulfil the projected 2030 Singapore Food Consumption Needs.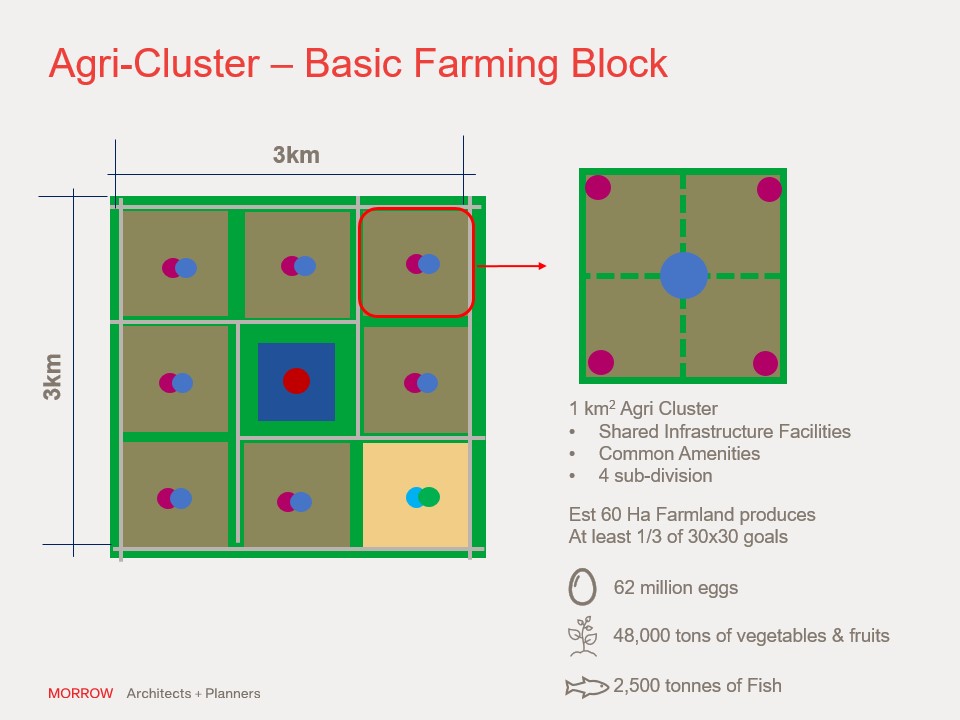 Figure 2, Agri-Cluster Food Production
Research conducted in Australia also found that despite limited land available for small-scale urban agriculture, the productivity of that land can be high. If implemented correctly, the practice can be carried out with very low environmental impact (once the ways in which recycled materials can be used to improve the sustainability of those systems are identified) and at low cost.
The Potential of Urban Agricultural Planning
Urban agriculture has the potential to strengthen local food production by fostering more resilient and sustainable cities and food systems. MORROW's Agri-Town planning model can help address food security worries and bring about socioeconomic and environmental benefits for any cities. Through knowledge-sharing and the rub-on effect of innovation from established farm owners, new agritechnology will ensure the future development and enhancement of long-term food security goals. This will ensure increased food resiliency in cities amidst the current pandemic and climate change.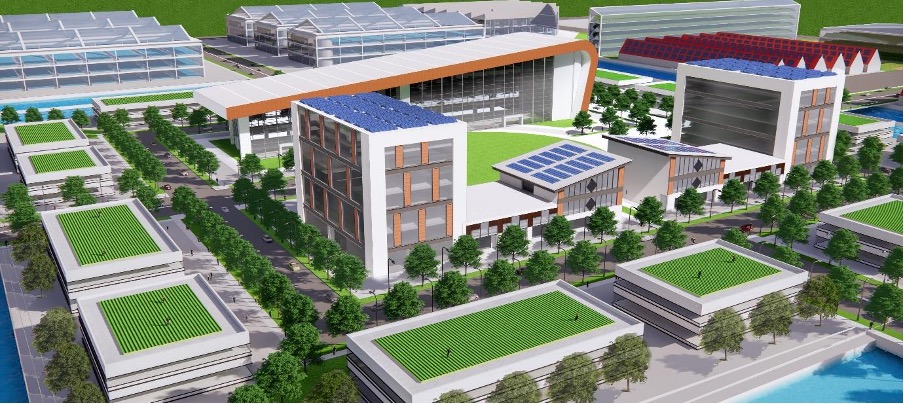 More about Yu Zhou in his profile here.
Other MORROW Insights here.